iPhone XR (PRODUCT) Red 64GB
iPhone XR 64GB
is rated out of
5
by
414
.
SPEED 4G LTE/Wi-Fi®
USAGE TIME Up to 25 hours (Talk time), 15 hours (Internet Use)
DISPLAY 6.1'' (diagonal) all-screen LCD Multi-Touch
STORAGE Internal Memory: 64 GB
CAMERA 12MP wide-angle camera ƒ/1.8 aperture
DIMENSIONS 5.94'' x 2.98'' x 0.33'' inches
Brilliant. In every way.
All-new Liquid Retina display - the most advanced LCD in the industry. Even faster Face ID. The smartest, most powerful chip in a smartphone. And a breakthrough camera system with Depth Control. iPhone XR. It's beautiful any way you look at it. Introducing Liquid Retina. The new display on iPhone XR is the most advanced LCD in the industry. An innovative backlight design allows the screen to stretch into the corners. So you see true-to-life color from one beautiful edge to the other.
In the next step, you will have the option to bundle your Phone with one of our no-contract plans.
A Service Plan is required for Activation. Plans are not returnable or refundable.
Legal:
¹iPhone XR is splash, water, and dust resistant and were tested under controlled laboratory conditions with a rating of IP68 under IEC standard 60529 (maximum depth of 2 meters up to 30 minutes). Splash, water, and dust resistance are not permanent conditions and resistance might decrease as a result of normal wear. Do not attempt to charge a wet iPhone; refer to the user guide for cleaning and drying instructions. Liquid damage not covered under warranty.
²Data plan required. LTE Advanced and LTE are available in select markets and through select carriers. Speeds are based on theoretical throughput and vary based on site conditions and carrier. For details on LTE support, contact your carrier and see www.apple.com/iphone/LTE.
Technical Specifications:
Go to www.apple.com/iphone-xr/specs/ for a complete set.
---
Rated

5

out of

5
by
Fox256
from
Fabulous phone, great price!
I've had my new phone for a few weeks and it's amazing. All the features of a top of the line iPhone, amazing camera and ease of use with reliable tracfone service. I've been a tracfone customer for almost 20 years! Having an iPhone is fantastic. I've had a series of iPod touches which compare to the iPhone 5 and it's so awesome to be able to upgrade. For the first time my service minutes, texts and dats didn't transfer over seamlessly so make sure to screenshot your last service status before doing the transfer. Customer service was able to get my service back because I had this information. Tl;dr - buy this phone. You'll love it!
Date published: 2020-10-31
Rated

4

out of

5
by
Mattboli
from
It's pretty quick!
I bought this a couple of weeks ago, and glad I did. It's the very first iPhone I've ever owned so far, so good! Pros: I love the speed and how easy it is to navigate. Also being a 64 gig is the largest memory for any phone I've ever had before. Cons: the battery doesn't have a long life. I can fully charge in the morning, and will have to plug back in the same evening. Another con, is that it's a very small phone. This is something I'm getting more and more used to everyday. I've always had big bulky phones that are hard to get in and out of my pocket. The size of this one, I'm really starting to like. I love the camera too. Takes awesome pictures!
Date published: 2020-09-28
Rated

5

out of

5
by
StevenA M
from
. The combination of iPhone and TracFone are GR8
This iPhone SE went beyond my expectations. The speech to text feature is fantastic it is even better than my other Apple products iPad Pro and I Mac hi seven processor. Actually I was happy with my old iPhone SE conveniently fits in the pocket I can get around and won't worry about it. The larger screen there's nice. For some senior citizens new to the iPhone play with it every day and watch some YouTube videos to learn what you can do with the phone. The combination of iPhone and TracFone are fantastic if you purchase of the phone enjoy your purchase Just a tip upgrade the phone the iOS 14.2
Date published: 2020-12-04
Rated

4

out of

5
by
22headshot
from
Good Phone BUT not perfect due to Apple Propriety
Bought this phone to replace the MotoM7 junk, that I sent back to TotalWireless for a refund. It is a good phone but it will you CANNOT make or take phone calls through auxiliary jack on car stereos. You must have Bluetooth. All Android phones can make and receive call through your car stereo's auxiliary jacks but NOT the new Iphones. This is the biggest fault of Iphones. Another thing. Every time you update an Apple product, the update will run your battery out quicker on the older products, even if the battery is good. This is designed, so you get a new Apple product. Planned obsolence
Date published: 2020-10-03
Rated

5

out of

5
by
Anonymous
from
iPhone SE 64 GB
I had the iPhone 6S for several years and liked it. When I upgraded to this model, it was quick and easy. It took about 24 hours to update, but all of my apps, contacts and information was transferred to this phone. I have had no problems with the phone, and love that I can use the phone often and have plenty of battery life all day, which was the problem with my old phone.
Date published: 2020-10-20
Rated

5

out of

5
by
Kirstin Hoffland
from
Excellent investment
I switched from Android to iPhone with this purchase and so far it has been completely worth the investment. I wanted a better quality phone without having to pay the huge price of the 12 series. The 2020 SE is the perfect combo of price, quality, and tech ability for someone who uses their phone regularly but not constantly. The only slight issue could be the battery life. I'm not a heavy phone user and it's been fine for me but something to consider if you use your phone a lot.
Date published: 2020-12-04
Rated

5

out of

5
by
Lena26
from
Amazing !
I bought this phone around two weeks ago. it's so much better than my 6s plus. i'm happy i upgraded
Date published: 2020-09-06
Rated

4

out of

5
by
Not afraid of you
from
Shiny red phone
Had to get a new phone before January when something mystical and dangerous was going to happen and my old iPhone would die as a result. I got a red one. It's pretty but very, very, a lot of very(s) slippery. Extremely slipper, it will fall to the ground by of its on volition if you set it on a surface. You will want some kind of not so slippery case to keep it in so it doesn't break itself. It has a lot of new fangled things that youngsters can stare at for long periods of time. For me, it will make phone calls, texts, take pictures (you have to do this, it doesn't do it when you aren't looking, thank goodness), and you can play games on it while you wait somewhere for an appointment or something.
Date published: 2020-11-28
Specifications
SIZE 5.94'' x 2.98'' x 0.33'' inches
WEIGHT 6.84 ounces (194 grams)
BAND (FREQUENCY) GSM EV-DO Rev. A (800, 1900 MHz)
INCLUDED BATTERY Built-in rechargeable lithium-ion battery
HEARING AID M3/T4
TALK TIME Up to 25 hours (Talk time), 15 hours (Internet Use)
What's in the Box?
iPhone with iOS 12 and Documentation
Lightning to USB Cable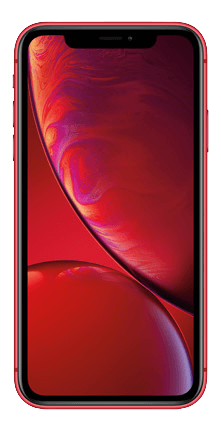 A Service Plan is required for Activation. Plans are not returnable or refundable.
More features
OS:
iOS 12 - iOS is the world's most personal and secure mobile operating system, packed with powerful features that help you get the most out of every day.
Camera:
TrueDepth Camera - 7MP camera ƒ/2.2 aperture. Portrait mode with advanced bokeh and Depth Control
Faster LTE and Wi-Fi:
LTE Advanced² up to 450Mbps and 802.11a/b/g/n/ac Wi-Fi with MIMO.
Battery:
Built-in rechargeable lithium-ion battery - Wireless charging (works with Qi chargers10) - Charging via USB to computer system or power adapter.
We are sorry but this device is not available currently!
Please add your email and we will notify you when this device can be purchased: SUBMIT
*TETHERING TO ANOTHER DEVICE IS PROHIBITED. OTHER LIMITATIONS APPLY. Please refer to your terms and conditions.