iPhone 7 32GB
is rated out of
5
by
705
.
SPEED 4G LTE/Wi-Fi®
USAGE TIME Up to 14 hours on 3G
DISPLAY 4.7'' HD display
STORAGE Internal Memory: 32 GB
CAMERA 12 MP iSight camera
DIMENSIONS 5.44'' x 2.64'' x 0.28'' inches
Business. To the power of 7.
iPhone 7 features an all-new 12 MP camera with an ƒ/1.8 aperture for great low-light photos and 4K video. Optical image stabilization. A 4.7-inch Retina HD display with wide color and 3D Touch. An A10 Fusion chip for up to 2x faster performance than iPhone 6. Touch ID. Faster LTE². The longest battery life in an iPhone. Immersive stereo sound, splash and water resistant¹, and iOS 10.

In the next step, you will have the option to bundle your Phone with one of our no-contract plans.
This Phone works with all SIMPLE Mobile 30-Day Service Plans. No Contract, No Credit Checks.
Legal:
¹iPhone 7 is splash, water, and dust resistant and were tested under controlled laboratory conditions with a rating of IP67 under IEC standard 60529. Splash, water, and dust resistance are not permanent conditions, and resistance might decrease as a result of normal wear. Do not attempt to charge a wet iPhone; refer to the user guide for cleaning and drying instructions. Liquid damage not covered under warranty.
²Data plan required. LTE Advanced and LTE are available in select markets and through select carriers. Speeds are based on theoretical throughput and vary based on site conditions and carrier. For details on LTE support, contact your carrier and see www.apple.com/iphone/LTE.
Technical Specifications:
Go to www.apple.com/iphone-7/specs/ for a complete set.
---
Rated

5

out of

5
by
Anonymous
from
A good first choice for people new to iPhone
I enjoy this phone far more than the iPhone SE, which was my first iPhone I ever owned. The autocorrect feature is a little less invasive and more accurate than the SE phone. The finger print security sensor works really well as long as my finger is dry of course. I love the size of this phone, it slides into all of my pants and or jacket/hoodie pockets easily. The camera takes very clear photos and I am obsessed with the slow motion feature. You can capture subtle details of birds taking flight or even ocean waves for example. I would recommend this phone to someone who is looking for an affordable price and is trying out the iPhone for the first time.
Date published: 2020-10-16
Rated

5

out of

5
by
Anonymous
from
Omg
I thought getting a water resistant phone was gonna be a scam. But I did it anyway because I broke my last phone by dropping it in the toliet. Well today while I was cooking, my phone slipped and submerged under probably a good 5 inches of HOT, BOILING water. And stayed submerged while I poured the water and phone into my sink. Well I dried it off and didn't put it in rice because I had been on a video call. Magically it was STILL ALIVE. k do here's the thing. I thought maybe it was gonna fry out a while later today but NOPE. it's still going strong. I am shooketh by the resilience of my iPhone. I literally burned it alive and it still works. It's a miracle. I'm so shooketh. GET THIS PHONE AND GET IT WATER RESISTANT.
Date published: 2019-09-22
Rated

5

out of

5
by
jld723
from
I PHONE 7
I have had my I PHONE 7 for over a year now, went from samsung core prime straight to it. I was skeptical at first cause who dont love a samsung ...right? lol Honestly I really enjoy this phone, great camera, excellent calls and not to mention facetime!!! I really dont like that iphone dont have back buttons, but once you get used to the set up and how it works, i think you just might like it. LOVE THE ADDED SECURITY WITH FINGERPRINTS!!! that was their best idea, dont have to worry bout anyone getting my personal info cause i have everything locked with my fingerprint recognition!!!! Love the idea of being water resistant, dropped my phone in many a mud puddles!!! My advice is if you wanna try it try it dont take anyones word for it cause you wont know if you like it til you try it. But, buy a small cheap one first then if you like it upgrade!!! I'm sticking with the 7 though :) <3
Date published: 2019-02-28
Rated

4

out of

5
by
Insert Nickname Here
from
Good Phone, but only slightly improved.
It's a great phone, but it hasn't really made any massive improvements over the iPhone 6S from 2015. Overall, if you are looking for a great phone that doesn't hit the wallet to hard, the iPhone 6S is the better choice, but if you've got the money and still want a better phone, the iPhone 8 or iPhone X are your go. But if you're that person who wants the good phone AND the good price, this is the best phone to get.
Date published: 2018-08-27
Rated

5

out of

5
by
Dan2150
from
Perfect size with excellent functionality
I replaced my Android with an iPhone for compatibility with my new hearing aids. I chose the iPhone 7 because of it's physical size. The 4.7 inch screen is perfect for me. Making the transition from Android OS to IOS took a little time but now that I am comfortable with IOS I am very pleased with the iPhone 7.
Date published: 2019-09-20
Rated

1

out of

5
by
Caitlin1117
from
iPhone 7 is the absolute worst!
I have had this phone for less than six months. Anytime I am on the phone, the person on the other line complains that I sound like I am far away or talking through a pillow. Siri can barely understand me. On top of that this phone doesn't have a headphone jack. Anytime I Plug the phone up to my headphones it sounds like the music is going in and out. I have bought many more of the attachments and headphones hoping they were the issue. I paid $700 dollars cash for this phone and can not believe I am having so many issues. I have always backed iPhone. I think I may have been wrong.
Date published: 2018-05-09
Rated

5

out of

5
by
An0n
from
Works Well
This phone can fit easily in a purse or pocket. It has a reasonably sized screen without the worry of accidental mishandling drops/falls. The features are great and are multifunctional for a wide range of customers no matter their daily routine. The data and SIM card switch from my old phone to this one was easy and user friendly. There is also great sound quality throughout all calls/videos/voice control or response features. The one thing that this phone lacks is the ability to customize/personalize different settings as much as you want in order to make the phone unique to it's owner.
Date published: 2020-09-08
Rated

4

out of

5
by
Mac804
from
Good Phone Water Resistance starting w iPhone 7
Pretty good phone. Especially for the price. Same size as the 6s. I personally would get the plus. At first I thought it was too big, but now the key board is kinda small 4 me. Is Apple ya know. Hey if you don't want to take a mortgage out for a phone it's a great option.
Date published: 2018-12-14
Specifications
SIZE 5.44'' x 2.64'' x 0.28'' inches
STANDBY TIME Up to 10 days
WEIGHT 4.87 ounces (138 grams)
BAND (FREQUENCY) GSM (850, 900, 1800, 1900 MHz)
INCLUDED BATTERY Built-in rechargeable lithium-ion battery
HEARING AID M3/T4
TALK TIME Up to 14 hours on 3G
What's in the Box?
iPhone 7 with iOS 10
Apple EarPods with Remote and Mic
Lightning to USB Cable
USB Power Adapter and Documentation.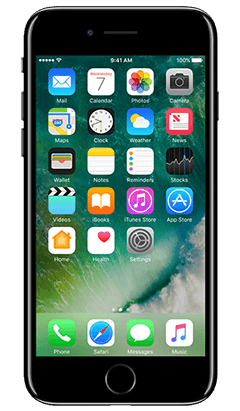 This Phone works with all SIMPLE Mobile 30-Day Service Plans. No Contract, No Credit Checks.
More features
A10 chip:
A10 Fusion chip with integrated M10 motion coprocessor.
Camera:
New 12MP camera, optical image stabilization, Quad-LED True Tone flash, and Live Photos
Faster LTE and Wi-Fi:
LTE Advanced² up to 450Mbps and 802.11a/b/g/n/ac Wi-Fi with MIMO.
Built-in Apps:
Built-in apps are an essential part of your iPhone experience and are efficiently designed to use less than 150MB of storage.
We are sorry but this device is not available currently!
Please add your email and we will notify you when this device can be purchased: SUBMIT
*TETHERING TO ANOTHER DEVICE IS PROHIBITED. OTHER LIMITATIONS APPLY. Please refer to your terms and conditions.