Samsung Galaxy Note10+ - Aura Glow (Silver)
Samsung Galaxy Note10+ - Aura Glow (Silver)
is rated out of
5
by
510
.
SPEED Wi-Fi 802.11a/b/g/n/ac/ax, UMTS,HSDPA,HSPA+,LTE, Bluetooth 5.0
USAGE TIME up to 38 hours
DISPLAY 6.8'' Display Dynamic AMOLED capacitive touchscreen, 16M colors
STORAGE Internal Storage: 256GB, 512GB - 12GB RAM
CAMERA Main Camera Dual 12 MP - 10MP Selfie Camera.
DIMENSIONS 162.3 x 77.2 x 7.9 mm (6.39 x 3.04 x 0.31 in)
Introducing next-level power
The Galaxy Note10+ isn't just a new smartphone. It's a gaming console. A film studio. It's a computer with an intelligent pen control-and it's all in one device.

In the next step, you will have the option to bundle your Phone with one of our no-contract plans.
A Service Plan card is required for activation. Plans are not returnable or refundable. Service Plan card is required for activation. Text SAN975U1 to 611611 for mobile tutorials.
---
Rated

2

out of

5
by
Bunny
from
Wish I could go back!!
I honestly hate my samsung galaxy note 10 plus 5g. I wish I could afford to go back to my note 9 plus. Some features I liked about the 9 are not on the 10. And I havent found any feature I like better that is on the 10 that wasnt on the 9. I hate how I am in an app and my phone just goes to the main screen. Google assistant doesnt work well. Never had a problem on my 9. At the bottom I can select to close all apps and 75% of the time it takes me to my contacts. I have to reboot the phone several times a week and sometimes that doesnt help. I have regretted making this purchase but when you pay an arm and a leg for phones now you cant really go back. Your stuck!!
Date published: 2020-04-21
Rated

1

out of

5
by
JoeFromNC
from
Huge Disappointment! Note 9 owner may NOT want.
If you have a Samsung Note 9 you may not want to upgrade to the Note 10+ for the following reasons: 1. 3.5mm headphone Jack was removed 2. Can no longer measure Heart Rate as sensor was removed 3. Can no longer measure your Oxygen saturation as O2 Sensor was removed. 4. Battery life is less than the Note 9 5. Extremely Costly especially considering the the lack of and/or removal of key features 5. Bixby is still an issue and cannot fully be removed If the features above are not relevant to you and/or you are upgrading from any other phone then this phone may be a great choice. Excellent camera(s), Nice design, and overall good performance.
Date published: 2019-09-06
Rated

4

out of

5
by
Wooddogg62
from
A little disappointed
The phone is great, except for one thing. I use to own the Note 9, was very hesitant about upgrading, I should have followed my 1st mine. The Note 10+ is rather slow when it comes to downloading or just surfing the Internet, with my Note 9 people with other phones were amazed how I could download faster why they we still surfing, in this with the Note 10 Plus I'm very disappointed. I would also like to say the Earbuds are horrible, callers say the sound on the other end is horrible. I tried resetting them and now the sound is even lower than what it was at first. I've been a Samsung guy and will continue to be, but these products have been disappointing so far!!!!!!!!!!!!!!!!!!!!!!!!
Date published: 2019-09-23
Rated

5

out of

5
by
lucky101
from
Real flagship!!!
The phone is excellent!!! Having the S10 for a while I have to say that the change doesn't feel huge! The phone looks and feels very similar to the S10. It's just a bigger, faster version. The front-facing camera is on a better location and quality-wise from the S10. The stylus is a great feature!!! I am using it more than I anticipated. The only thing that I don't like so far is the fact that they removed the heart rate monitor feature (one star down for that)! That is huge but I had to compromise. Obviously, I would like it cheaper and that's why one star down there as well. Overall, though a great phone!
Date published: 2019-09-13
Rated

2

out of

5
by
Jason1430
from
This is now become average like all other phones
I'm am very disappointed in Samsung. The Note series is supposed to be their "do everything" phone for people who don't use their phone as a toy. I'm not buying a toy. I'm buying technology that helps me get stuff done. That's how you sell it! To get stuff done. You dropped the power button, which everyone was used to it being on the right side of the phone. Then you dropped the headphone jack too?!?! You need to be VERY careful. When you change to much people will start looking at other products and your brand loyalty will be gone. A year from now you'll be wondering why the Note line is doing so poorly and it will be your own fault.
Date published: 2019-08-29
Rated

5

out of

5
by
_alanli
from
What a phone
[This review was collected as part of a promotion.] The new design on the phone was an answer to every problem I had on the S10+ The lock button now moved to the left side. Way easier for me to lock and unlock with one hand. In addition, NO MORE BIXBY BUTTON! I will no longer accidentally click on the bixby button. Front camera is now in the center. Look a lot more cleaner and more modern. Camera quality aren't much of an upgrade from the s10+, but it was already amazing. Screen looks great and the color really show.
Date published: 2019-08-22
Rated

3

out of

5
by
d0ekun
from
A little bummed
Saw the Star Wars edition and tipped the scales in favor of the Note over the latest Pixe. That, and the battery life is better on the Note. Unfortunately, the first software update deleted the boot animation (the Kylo Ren helmet one) and replaced it with the Samsung logo animation. This is extremely frustrating. You pay extra for something special (to me), and they break it with a "one-size-fits-all" update. Not cool. Aside from that, it's frustrating to have a lot of bloatware. I moved from the Pixel series and suppose I was spoiled - Google phones have zero bloatware. Overall, I'm still getting used to making the switch, but I wrote this review in hopes that Samsung will see it and fix the boot animation.
Date published: 2019-12-20
Rated

4

out of

5
by
SCRUFF
from
LOVE IT! IT FEELS SOLID.
I have been a Note user since Note 4 and a Samsung user for longer. The Note 10+ looks and feels amazing. The S Pen feels much sturdier as well. I am very pleased they allowed the Bixby button has been removed (kinda) but absolutely HATE and gave it only 3 stars on design due to the power button on the left. I actually never really had an issue with the fingerprint scanner on the back and the headphone jack means nothing to me so its removal is fine. One thing I am very disappointed in was the only 512GB memory available direct was unlocked black. Why not have all the colors available online? Please Samsung, let us decide what we want and not what you decide.
Date published: 2019-09-11
Specifications
SIZE 162.3 x 77.2 x 7.9 mm (6.39 x 3.04 x 0.31 in)
STANDBY TIME Standby time up to 12.6 days
WEIGHT 196 g (6.91 oz)
BAND (FREQUENCY) 3G - 4G - LTE
INCLUDED BATTERY Li-Ion 4300 mAh Battery
HEARING AID M4/T3
TALK TIME up to 38 hours
What's in the Box?
Samsung Galaxy Note10+
USB Cable
OTG Adapter
Travel Adapter/Data Cable (Cto C)
Ejector Tool
S Pen tips and tweezers
Extra Earbuds
USB-C AKG Headset
S Pen.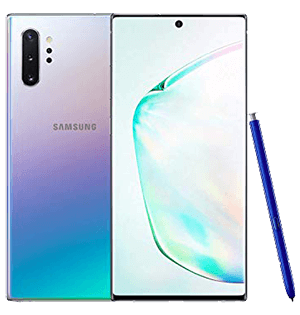 A Service Plan card is required for activation. Plans are not returnable or refundable. Service Plan card is required for activation. Text SAN975U1 to 611611 for mobile tutorials.
WARNING: Reproductive Harm - www.P65Warnings.ca.gov
More features
OS:
Android 9.0 (Pie); One UI
RAM:
Laptop storage without the laptop - With massive internal memory and external storage up to an additional 1TB, the Note10 series takes mobile memory to massive levels.
CAMERA:
Rear-facing camera: 12MP (f/1.5/2.4) wide super speed dual pixel, 16MP (f/2.2) ultrawide and 12MP (f/2.0) - Front-facing camera: 10MP Ultra HD
PROCESSOR:
A processor one step ahead so it won't slow you down - Qualcomm SM8150: Octa-Core Quad 1.7GHz processor
DISPLAY:
6.8'' Display Dynamic AMOLED capacitive touchscreen, 16M colors
We are sorry but this device is not available currently!
Please add your email and we will notify you when this device can be purchased: SUBMIT
*TETHERING TO ANOTHER DEVICE IS PROHIBITED. OTHER LIMITATIONS APPLY. Please refer to your terms and conditions.