Samsung Galaxy S9+
is rated out of
5
by
448
.
SPEED 4G LTE/Wi-Fi®
USAGE TIME up to 35 hrs
DISPLAY 6.2'' Quad HD + Curved Super AMOLED
STORAGE 4GB RAM / 64GB + Micro SD Slot (up to 400 GB)
CAMERA Super Speed Dual Pixel 12MP AF sensor with OIS (F1.5/F2.4)
DIMENSIONS 158.1mm x 73.8mm x 8.5mm
The Camera. Reimagined.
Capture stunning pictures in bright daylight and super low light. The category-defining Dual Aperture lens adapts like the human eye. It's able to automatically switch between various lighting conditions with ease making your photos look great whether it's bright or dark, day or night.
In the next step, you will have the option to bundle your Phone with one of our no-contract plans.
A Service Plan is Required for Activation. Plans are not returnable or refundable. Transfer Wizard app available to move stuff from your old phone to your new phone. Text SAG965U1C to 611611 for mobile tutorials.
---
Rated

5

out of

5
by
SamsungMonomaniac
from
Upgraded from a S7 edge
-Absolutely stunning! -SO much faster than a S7 Edge (Snapdragon 820) -S9 is priced lower than a S8 at its debut. (Only in the U.S) -Slightly smaller bezels than the Galaxy S8. -AR Emoji is tacked on to face Apples Animoji -Some features may get ported over to the Galaxy S8 once Oreo hits. -AKG tuned stereo speakers are a good step up in sound quality compared to all other Samsung flagships. Overall a great upgrade for people who have smartphones older than 2 years, but for some with a Galaxy S8 it will be recommended to wait for the S10 due to the s9 having a similar looking body with the phone mostly focused towards the new camera.
Date published: 2018-03-10
Rated

5

out of

5
by
CocalaruElectronic
from
Fantastic experience!
This is, by far, the most fantastic experience I ever had (this thing is a lot more than just a "device" - it's a mind blowing experience)! Fantastic display, fantastic battery life, fantastic camera, fantastic Samsung Experience 9.0 (I mean, really, this UI has absolutely everything I was looking for - the addition of a native screen-recorder would be totally awesome), fantastic Internet speed, fantastic super slow-motion recording, fantastic stereo-speakers! And for people complaining of "just 64GB of internal memory": why don't you buy a Memory Card up to 400GB and call it a day? I am super-thrilled with my new Samsung Galaxy S9+ experience!
Date published: 2018-03-18
Rated

5

out of

5
by
Melnole
from
Best phone on the market!
I've had the Galaxy S, S2, S4, S6 and now the S9+. I'm extremely impressed with the improvements with this model from my S6. The battery life is AWESOME! I've gone a day and a half without having to charge. All the camera features make me feel like a professional photographer. The quality of the pics are amazing! The screen picture is beautiful. It looks better than my TV. The processor speed is very fast. I've not experienced any lag in the month that I've had the phone. I love Bixby! It makes it easy to do things on my phone hands free which especially helps with taking selfies, sending texts while driving, and learning how to use new features on my phone.
Date published: 2018-07-20
Rated

5

out of

5
by
MrEng
from
Bought my S9+ in Singapore
I live in the U.S. but I was very fortunate to buy my S9+ in Singapore when it first came out on March 10, 2018. There are a couple of differences compared with the U.S. version. I got the 256gb version. U.S. is maxed at 64gb. Also it comes with a clear case protector(back only). Won't use it, but it nice that you have the option to use it. Why doesn't the U.S. have the 256gb version? This phone allows for 2 sim cards to be put in. With 256gb built in, you can use the 2nd slot for another sim card rather than extra storage. Love the Bixby translator. Was able to just take a picture of a document in Indonesian and got it translated into English.
Date published: 2018-04-01
Rated

5

out of

5
by
Ohiobuckeye7
from
New Samsung User for Life
I tell you what. All my tv's are Samsung, I have a washer that is Samsung, and I just switched from the Pixel XL 2 to the S9+ and couldn't be happier. The screen is so vibrant and I believe they thought of everything as far as customization. I also bought the wireless charger and it was well worth it. I hope this phone will carry me for a couple of years and they continue to release phones as good, if not better than this. The front speakers and awesome! Thank you for keeping the 3.5mm jack as that was the main reason for ditching the last phone. The camera and emoji feature is awesome. Keep up the work. I think you have a new phone customer for life!
Date published: 2018-03-31
Rated

3

out of

5
by
nourah
from
Too slow.
I bought this 4 months ago, I loved it, the camera is amazing but still weird when using Snapchat. I'm bothered by the notification icon that disappears once you open an app (for example if I have 4 new text messages, if I enter the text message app and read only one, once I exit, it doesn't show that I have 3 other text messages left and I tend to forget about them until I receive a new one). Also, my main problem is that the phone sometimes becomes soo soo slow, to the point where I have to turn it off. I really don't know why. Then we have Bixby, which is almost useless, and she has a whole button on the side. Other than those, the phone is ok.
Date published: 2018-12-12
Rated

5

out of

5
by
silveritea
from
So much better than iPhone!
I had been a faithful iPhone user since the 3GS. I switched to the Galaxy S9+ on November 27th, 2018. This is a really awesome phone. The transfer of everything with my iphone went easily (once I had both phones at 100% charge - this should be mentioned in the documentation), and have not looked back. Incredible battery life, and the camera? So WOW! A bit of a learning curve in learning Android, especially as I was so very used to iOS, but as I figure things out, I find that this phone does so many things that just are not even offered for iOS. Very pleased with my purchase!
Date published: 2018-12-07
Rated

5

out of

5
by
susabelle
from
fingerprint log on needs work
My first Samsung phone and overall I love it. I've only had it for a short time, The camera features are awesome, and I'm sure that I will eventually get a chance to play with them and learn how to use them. I do find the button placements to be difficult. Bixby button really gets in the way, Maybe it will become easier with time. My biggest gripe is the fingerprint unlock. It was hyped as a big plus when I bought the phone. Too bad that it only works 10% of the time despite keeping the button very clean and even reloading my fingerprint thinking it might help. I waste more time trying to use it then going back to the pattern method to unlock. Hopefully this will be improved some day.
Date published: 2018-06-17
Specifications
SIZE 158.1mm x 73.8mm x 8.5mm
STANDBY TIME Standby time up to 3.5 days
WEIGHT 189g
BAND (FREQUENCY) Technology: GSM / LTE - Wi-Fi 802.11a/b/g/n/ac
INCLUDED BATTERY 3,000mAh
HEARING AID M4/T3
TALK TIME up to 35 hrs
What's in the Box?
Includes Charger
AKG Headset
Activation Card
Micro USB OTG Adapter
Activation Card
Service Guide and Quick Start Guide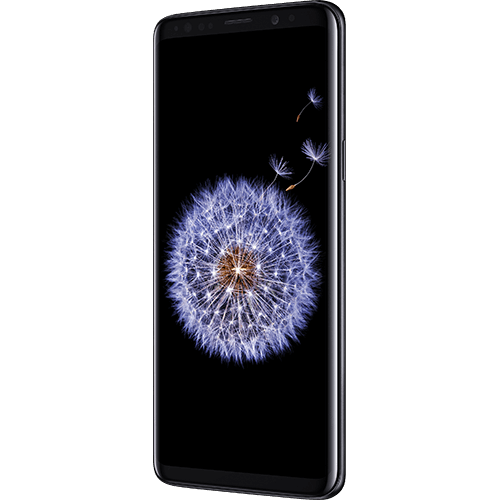 A Service Plan is Required for Activation. Plans are not returnable or refundable. Transfer Wizard app available to move stuff from your old phone to your new phone. Text SAG965U1C to 611611 for mobile tutorials.
WARNING: Reproductive Harm - www.P65Warnings.ca.gov
We are sorry but this device is not available currently!
Please add your email and we will notify you when this device can be purchased: SUBMIT
*TETHERING TO ANOTHER DEVICE IS PROHIBITED. OTHER LIMITATIONS APPLY. Please refer to your terms and conditions.