Samsung Galaxy Note10 - Aura Glow (Silver)
Samsung Galaxy Note10 - Aura Glow (Silver)
is rated out of
5
by
141
.
SPEED Wi-Fi 802.11a/b/g/n/ac/ax, UMTS,HSDPA,HSPA+,LTE, Bluetooth 5.0
USAGE TIME up to 34 hours
DISPLAY 6.3'' Display Dynamic AMOLED capacitive touchscreen, 16M colors
STORAGE Internal Storage 256 GB - 8 GB RAM
CAMERA Main Camera Dual 12 MP - 10MP Selfie Camera.
DIMENSIONS 5.94 x 2.82 x 0.31 inches
Introducing next-level power
The Galaxy Note10 isn't just a new smartphone. It's a gaming console. A film studio. It's a computer with an intelligent pen control-and it's all in one device.
In the next step, you will have the option to bundle your Phone with one of our no-contract plans.
A Service Plan card is required for activation. Plans are not returnable or refundable. Service Plan card is required for activation. Text SAN970U1 to 611611 for mobile tutorials.
---
Rated

5

out of

5
by
Luckyinlove
from
Love the Galaxy Note 10
I was debating on whether to get the note 10 plus or the note 10 and finally settled on the note 10 due to the size. I don't like big phones and I find them harder to fit in my pocket or wallets/wristlets. The note 10 is perfect for me. My husband have to note 10 plus and I'm very happy that I chose the note 10. The plus would have been too big for me but love both phones. People are upset about the missing headphone jack but it doesn't bother me cause I've been using my galaxy buds. Also for the other missing features that this phone doesn't have compared to the note plus doesn't bother me but could have been cheaper. All in all a great phone and I'm happy with my purchase.
Date published: 2019-08-25
Rated

3

out of

5
by
Kittenscol
from
Good but not great
I have been a note user for a long time. I only upgraded because I needed more memory. I must say, I'm not impressed for the price. I actually think that the older models were better. The pen is flimsy and falls out. Within a week it was finally lost so I had to order a new one. The battery life seems to be the same as the other versions. The screen will sometimes freeze and needs to be reset. Sometimes the keyboard works great, sometimes not. I still love all of the features the phone has and still love Samsung phones. I just feel this phone doesn't give what it's supposed to. Not worth the price.
Date published: 2019-09-14
Rated

4

out of

5
by
Adam
from
If it aint broke dont try to fix it
[This review was collected as part of a promotion.] so my review continues- i don't always carry my lhine on my lerson ....without the notification light...now i have no way of knowing when i miss anything or charging status and that sucks . to add on to this problem of no notification light is when you are charging your phone you could see if its still charging by the red light or when it was done with a green light.... guess what i cant do that anymore by glance, why because there's no more notification light. so overall numerically a 7 5-8 rating or a b to b minus overall rating
Date published: 2020-06-10
Rated

5

out of

5
by
KCDAF40
from
Excellent phone. Lots of power and features.
I bought the Note 10 about a month ago and have been very pleased with it. this is my 5th Note through the years. Feels and looks like quality. Screen is excellent and bright. Has really good sound and includes Dolby Atmos. No phone jack which was not a surprise when you have a world with bluetooth. Only complaint is the phone feels slippery in your hands so be careful. Other than that great phone and I highly recommend it.
Date published: 2020-04-01
Rated

4

out of

5
by
Peggy
from
Beautiful Device
I just got the note10 and its got fantastic features...and its so light. sound for music A+,Cameras so cool. I wish I would have chose the Note 10 + though cause I'm 54 and have carpal-tunnel in my hands and doing smaller everything is difficult and frustrating. I had no Idea the note 10 was smaller then what I was used to. This is my 4th or 5th Note device and the first I got was because of the size. I don't get a new one every time they come out cause of $ and caring for family. So I will have to keep this for a few years unless I find someone who maybe doesn't like the large size of the plus. But, the Note 10 is a wonderful phone, just wish fingers would cooperate.
Date published: 2020-05-28
Rated

3

out of

5
by
91rl
from
Could be perfect except...
I switched from an S7 Edge to this. I loved my edge, best phone I ever had. I needed an upgrade so I went for a note... this phone is gorgeous. My problem is the lack of headphone jack. It doesn't come with an adapter & not any simple adapter is supported. I would have gave it 5 stars had it not been for the lack of including an adapter. The more Samsung tries to be like apple, the less I am interested in buying a Samsung.
Date published: 2019-08-25
Rated

3

out of

5
by
Neseyy
from
Nice but..
I just got this today and i love it except the aura blue is not what i accepted. Also really dislike the no audio jack. I wish they would of sent a audio jack extender like apple does at lease. One of the reasons i didn't like apple was because of the no audio jack. Really wish they would stop trying to be like apple and be themselves. If they send out audio jack extenders then i would change my review.
Date published: 2019-08-28
Rated

2

out of

5
by
Anonymous
from
not overly impressed
My phone seems to do things on its own. I don't always get a sound notification when receiving a text when the phone is on. The cell signal isn't the greatest. Sometimes the Bluetooth connection between my phone and ear piece drops off. The notification bar is too small. Sometimes Spotify just starts playing through my ear piece when I hang up from a call, even though the program is closed. Maybe these things are setting that i haven't found yet. I don't want this Bixby thing on my phone. I'm perfectly capable to get navigating my phone with out having it talk to me. The camera is cool and the battery is good.
Date published: 2019-09-26
Specifications
SIZE 5.94 x 2.82 x 0.31 inches
STANDBY TIME Standby time up to 12.6 days
WEIGHT 5.89 Ounces
BAND (FREQUENCY) 3G - 4G - LTE
INCLUDED BATTERY Li-Ion 3500 mAh Battery
HEARING AID M4/T3
TALK TIME up to 34 hours
What's in the Box?
Samsung Galaxy Note10
USB Cable
OTG Adapter
Travel Adapter/Data Cable (Cto C)
Ejector Tool
S Pen tips and tweezers
Extra Earbuds
USB-C AKG Headset
S Pen.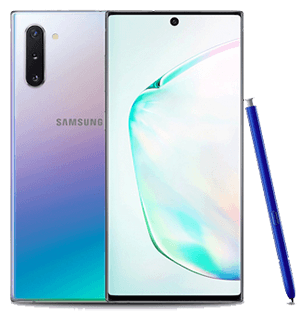 A Service Plan card is required for activation. Plans are not returnable or refundable. Service Plan card is required for activation. Text SAN970U1 to 611611 for mobile tutorials.
WARNING: Reproductive Harm - www.P65Warnings.ca.gov
More features
OS:
Android 9.0 (Pie); One UI
RAM:
Laptop storage without the laptop - With massive internal memory and external storage up to an additional 1TB, the Note10 series takes mobile memory to massive levels.
CAMERA:
Rear-facing camera: 12MP (f/1.5/2.4) wide super speed dual pixel, 16MP (f/2.2) ultrawide and 12MP (f/2.0) - Front-facing camera: 10MP Ultra HD
PROCESSOR:
A processor one step ahead so it won't slow you down - Qualcomm SM8150: Octa-Core Quad 1.7GHz processor
DISPLAY:
6.3'' Display Dynamic AMOLED capacitive touchscreen, 16M colors
We are sorry but this device is not available currently!
Please add your email and we will notify you when this device can be purchased: SUBMIT
*TETHERING TO ANOTHER DEVICE IS PROHIBITED. OTHER LIMITATIONS APPLY. Please refer to your terms and conditions.