Samsung Galaxy J7 Crown
is rated out of
5
by
9
.
SPEED 4G LTE/Wi-Fi®
USAGE TIME Talk time up to 24 Hrs
DISPLAY 5.5'' HD TFT Display
STORAGE Internal Memory 32 GB (device only)
CAMERA 13MP main camera - 13MP front-facing camera
DIMENSIONS 6.03'' x 3.00'' x 0.34'' inches
Introducing the Samsung Galaxy J7 Crown.
Go bold with the sleek, new Samsung Galaxy J7 Crown. With a 13MP camera that captures incredible photos in low light and 5.5'' HD screen1 to keep you entertained all day, it's the Galaxy experience that fits your life.

In the next step, you will have the option to bundle your Phone with one of our no-contract plans.
A Service Plan card is required for activation. Plans are not returnable or refundable. Text SAS757BL to 611611 for mobile tutorials.
---
Rated

1

out of

5
by
RubyGreg
from
NEVER Have I EVER Experienced This
What a complete waste of money. Right out of the gate, I could not phone or text, send or receive from anywhere else but my home network. I had to continually restart to send ONE. SIMPLE. TEXT. AT. A. TIME. This from the 800 bed hospital where I work. IMPORTANT (that DIRECTLY affected patient care) messages went into "draft." Wouldn't work until I arrived home. Secondly, this piece of garbage starts draining the battery while the power cord is being removed--literally. A one star rating is too high. I'll not purchase any cellular Samsung products going forward. And not likely any other of their products as well, if this is their track record.
Date published: 2019-01-26
Rated

5

out of

5
by
DAVID
from
Great phone for the vast majority
Great phone, just don't know why simple mobile lists incorrect specs of the device since they are selling it: The model # is actually S757BL (not S767VL), it has 32 GB of internal storage (not 16 GB). Additionally it has NFC, facial recognition and 2 GB of RAM.
Date published: 2018-12-25
Rated

4

out of

5
by
Nicholsongirl82
from
Love my Samsung Galaxy!
I have bought different brands of phones through the years and never really been happy with them... Always end up going back to the Samsung...have a Samsung Galaxy J7 crown right now and other than it is a bit slower than I want at times, I love my phone very much and I will definitely continue to stick with the galaxy for years to come!
Date published: 2019-09-23
Rated

5

out of

5
by
Corney
from
Good quality, good storage, practical
I've actually had this phone for about a year now. My parents got it for me as a birthday present, and it's been my favorite phone ever since. It's survived droppings, drill weekends out in the field, being in backpacks and pocket at school and work, and it only has a few minor scratches on the screen. Very superficial ones might I add. The restart reminder is a nice touch, as well. I was blown away by the camera quality when I first tried it out. I've never had a phone that had higher than a 5.0mp camera, so it was a drastic improvement. Storage is decent - though I do have an SD card I kept from my old phone. But only a portion of my galleries are on the SD card, so all of my apps and the rest of my photos are in my internal drive. After a year I still have room to spare. I really like that the speaker is on the side too, because I don't have to worry about laying it on it's back cover and muffle out the sound. Great design plan on the developers part. The sound quality itself is pretty nice, too. One issue I've had, though I'm not sure if it's the fault of the phone, is that it cannot seem to sync with my car. The contacts anyways. But that's a minor inconvenience. If there's anything to take away from this, it's that I will be handing on to this until its last moment where I am forced to move on. And to the gentleman who had issue with the messages not sending, I think that was an issue with settings.
Date published: 2019-11-18
Rated

5

out of

5
by
1crazyhawk
from
Great phone
I've had this phone for about 3 months now. The battery lasts a very long time.
Date published: 2019-12-08
Rated

4

out of

5
by
CranberrySauce
from
Great Budget Phone
I have bought two of these now, the first one lasted me about a year, it worked very well. It did unfortunately give out, so beware of the battery. Because, the batteries are not easily replaced. I do think it is worth buying though, and I recommend buying a protective case, it would be advantageous to do so. The battery life is good, not great, but it does charge relatively fast. Camera is great, as long as you have good lighting.
Date published: 2020-08-30
Rated

1

out of

5
by
Aarona175
from
Malfunctuned almost immediately.
At least once a day, when my calls connect, I cannot hear the person I called and they cannot hear me. I can see that the call has gone through because the length of the call is logged once connected. Also, my texts are hit and miss. Sometimes they send and other times they don't. This all started to happen within a week after purchase. I'm bummed. I wasn't expecting the greatest phone in the world for the price, but I was expecting to be able to call and text.
Date published: 2020-01-20
Rated

5

out of

5
by
Joker58
from
Great phone
I have had this phone for almost two years and not one problem
Date published: 2020-08-23
Specifications
SIZE 6.03'' x 3.00'' x 0.34'' inches
STANDBY TIME Standby time up to 27 days
WEIGHT 6.38 oz
BAND (FREQUENCY) Technology: 4G LTE
INCLUDED BATTERY Battery Li-Ion 3,300 mAh
HEARING AID M3/T3
TALK TIME Talk time up to 24 Hrs
What's in the Box?
Includes Charger
Battery
Activation Card
Services Guide and Quick Start Guide.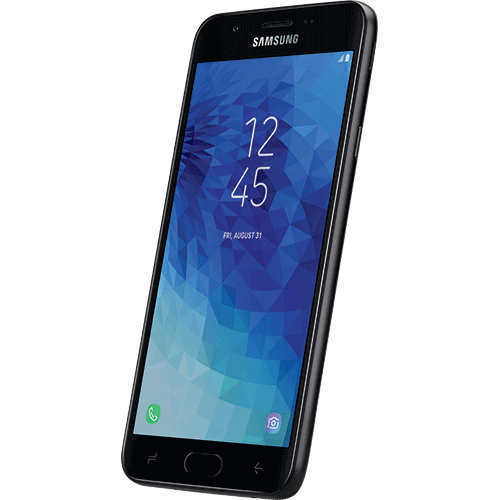 A Service Plan card is required for activation. Plans are not returnable or refundable. Text SAS757BL to 611611 for mobile tutorials.
WARNING: Reproductive Harm - www.P65Warnings.ca.gov
More features
RAM:
More space for what matters - With 32 GB of built-in storage, you can store photos, videos, apps and games without having to decide what to keep. And if you ever need more, simply expand up to 400GB with a microSD card.
CAMERA:
Own the moment - Make the most of every moment with the Galaxy J7's improved camera. Even in low light, take post-worthy shots with 13MP precision on both front and main cameras, plus you can add filters and stickers to photos for a personalized touch. Bring up Bixby Vision to instantly shop for something you see and like.
PROCESSOR:
1.56 GHz Octa-Core processor
DISPLAY:
Big bold entertainment - Whether you're watching, browsing or playing, stay entertained on a beautiful 5.5'' HD screen that brings movies and games to life.
We are sorry but this device is not available currently!
Please add your email and we will notify you when this device can be purchased: SUBMIT
*TETHERING TO ANOTHER DEVICE IS PROHIBITED. OTHER LIMITATIONS APPLY. Please refer to your terms and conditions.