Samsung Galaxy Note9 - 128GB (Blue)
Samsung Galaxy Note9 - 128GB (Blue)
is rated out of
5
by
331
.
SPEED 4G LTE/Wi-Fi®
USAGE TIME All-day battery
DISPLAY 6.4'' Quad HD+ Super AMOLED Dispay
STORAGE 128 GB of ROM
CAMERA Dual Aperture lens supports f/1.5 and f/2.4 mode.
DIMENSIONS 162 x 76.4 x 9.5 mm
THE NEW SUPER POWERFUL NOTE
At 6.4'', the Samsung Note9 has the largest screen of any Galaxy phone. Perfect for gaming and streaming, the Super AMOLED display is bigger than ever before. Still amazing on screen, but now the S-Pen has more power off screen. Remotely control different applications and use the S pen to capture shots from far away, scroll, play music, and stop/ start recording video. The Galaxy Note9 has twice as much storage as the Note8, which means more music, more videos, more pictures, and less worry when it comes to space on your phone.

In the next step, you will have the option to bundle your Phone with one of our no-contract plans.
A Service Plan is Required for Activation. Plans are not returnable or refundable. Transfer Wizard app available to move stuff from your old phone to your new phone. Text SAG960U1C to 611611 for mobile tutorials.
---
Rated

4

out of

5
by
Dancergirl26
from
Best phone EVER!!!
I preordered my note9 on 8/17. I originally got the galaxy s8 when it came out, when the Note8 came out I wanted it, but decided to wait for the Note9. I got my phone today and I am absolutely IN LOVE with my phone. It has all the amazing features my galaxy s8 had plus more. I love how advance not only the phone is, but the s pen also. My only reason why this is not a 5 star review is because I noticed on the Note9 I can't have my own background for my text messages, like I could with my s8. I'm not talking themes, I mean a picture from my gallery. If this feature could be brought back, I would gladly turn this from a 4 star to a 5 star.
Date published: 2018-08-25
Rated

5

out of

5
by
CSPY71
from
AMAZING PHONE
First of all, I want to congrats to all Samsung team for the hard effort to bring out this beautiful and fantastic phone. After the incident with Note 7 - which I was one of the thousands of people had to give up, and get the S7 Edge, well it was worth to wait. High-speed performance, the quality of the pictures are so incredible HD, the features are handy, the free headphones are incredible, and the battery lasts longer if you know how to turn off or put to sleep your apps by using the device maintenance, the design is sexy. If you bought this phone and didn't like, then something is wrong with you. THUMBS UP TO SAMSUNG!!!!
Date published: 2018-08-26
Rated

5

out of

5
by
LorenzoNYC
from
I´m glad to be back to the Note and Samsung!
After 2 months of use... I am so happy to be back to the Note. It surpasses the Note 7... Great battery life... bright screen... awesome photos... I will wait until Bixby is perfected before I use it... To tell you the truth... I was a little afraid to come back to Samsung after the Note 7 (I loved that phone).. Through the Samsung Insight Program I had the opportunity to give it a shot at a lower price ... more willing to take a chance... and I am glad I took it... Now I am a Samsung super user got the IconX.... just received my Galaxy Watch... and I have a 4K smart tv on the way! [This review was collected as part of a promotion.]
Date published: 2018-11-25
Rated

5

out of

5
by
BLandon
from
This Phone has every feature you need
I bought this phone 2 months ago and wanted to wait a bit to review it. I have compared it with its competitors and I keep coming back to the Note 9. This phone has mega battery life, a huge beautiful screen, a headphone jack, a pen, expandable storage. It has it all, and it runs smooth to boot. This is the best phone on the market and I can't imagine not recommending it. Every time I need to do something, from writing an email, signing a pdf (big in my profession), downloading files to the SD card, taking great pictures, even just watching movies, this phone doesn't let me down. I paid full price and feel I've got my money's worth.
Date published: 2018-11-12
Rated

5

out of

5
by
Sw00p
from
Absolutely the best!
I preordered note 9 and couldn't wait. The battery is wonderful and the fingerprint sensor is both quick and accurate. I leave mine in power save mode and literslly use it all day freely. Plus the display is great. Realisticly thr price is a little high but when compared to the iPhone XS Max BY FAR the better device (more features, completely customizable making the device an extension of you, a better camera, and expandable memory) I am having 1 issue with the device which is with the direct call feature. It doesn't work for whatever reason. 100% a software problem and an easy fix.
Date published: 2019-03-01
Rated

5

out of

5
by
Invictus Maneo
from
King of the Hill
The Galaxy Note9 is the King of the Hill when it comes to smart phones. I am a long time note user, my first was the galaxy not 3 and I have loved the note series ever since. The Note9 is a beast when it comes to multi-tasking. I am able to quickly move from one element to the next, use the split screen to work and search, and enjoy entertainment of my choice via a brilliant screen and dual speaker setup. The phone is lightweight, sleek, and down right sexy. As a business professional, I love the knox / secure features of the phone. This phone blazes thru the abundant storage without any hiccups. I can't say enough about this device, it is truly amazing.
Date published: 2019-04-06
Rated

5

out of

5
by
Neverglow
from
Workhorse of a device. Solid all-rounder w/extras.
I'll be brief. Great device all around. Solid battery life. Wonderful screen. Incredible audio features (though Dolby Atmos and the high quality codec are not on by default) especially when using Bluetooth. Dangerous with out a case. Feel like it's going down. I've no real complaints, however. I use the device heavily. VPN enabled. Games, productivity (mmmm, this is the first Note I'm actually using the S-Pen. Doesn't feel forced).
Date published: 2018-09-10
Rated

5

out of

5
by
Feistyredhead
from
This was worth waiting for.
I have been a Note owner since the 2, and have owned nothing else since. I stopped upgrading at the 4 as I believed it to be truly the best device I have ever owned. Happily, I was wrong. After 5 years, my old soldier died, and I went to the 9, and WOW! This device ticks all of the boxes for me as a power user. My only beef, is the awful color of the S Pen, I would have much rather it matched the device color, and I am not a big fan of the curved screen, but I soldier on :)
Date published: 2018-09-08
Specifications
SIZE 162 x 76.4 x 9.5 mm
WEIGHT 7.09 Oz
BAND (FREQUENCY) 4G LTE Network
INCLUDED BATTERY Li-Polymer 4000mAh
HEARING AID M4/T3
TALK TIME All-day battery
What's in the Box?
Device with S Pen
Tweezer and Pen Nibs
USB Power Adaptor
Micro USB OTG Adapter
USB Connector (USB Type-C)
USB Cable
Ejection Pin
Earphones
Activation Card
Services Guide and Quick Start Guide.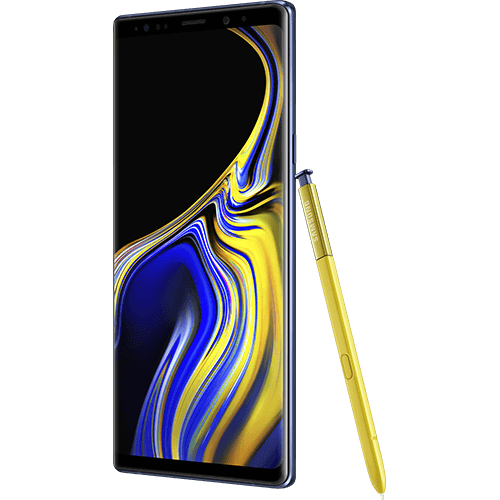 A Service Plan is Required for Activation. Plans are not returnable or refundable. Transfer Wizard app available to move stuff from your old phone to your new phone. Text SAG960U1C to 611611 for mobile tutorials.
WARNING: Reproductive Harm - www.P65Warnings.ca.gov
We are sorry but this device is not available currently!
Please add your email and we will notify you when this device can be purchased: SUBMIT
*TETHERING TO ANOTHER DEVICE IS PROHIBITED. OTHER LIMITATIONS APPLY. Please refer to your terms and conditions.