Samsung Galaxy S9
is rated out of
5
by
327
.
SPEED 4G LTE/Wi-Fi®
USAGE TIME up to 31 hrs
DISPLAY 5.8'' Quad HD + Curved Super AMOLED
STORAGE 4GB RAM / 64GB + Micro SD Slot (up to 400 GB)
CAMERA Super Speed Dual Pixel 12MP AF sensor with OIS (F1.5/F2.4)
DIMENSIONS 147.7mm x 68.7mm x 8.5mm
The Camera. Reimagined.
Capture stunning pictures in bright daylight and super low light. The category-defining Dual Aperture lens adapts like the human eye. It's able to automatically switch between various lighting conditions with ease making your photos look great whether it's bright or dark, day or night.
GET AN eMASTERCARD FOR UP TO $100*
BUY: Select iPhone or Samsung devices with a 30- day service plan in the same transaction between 2/21/2020 and 3/31/2020.
ACTIVATE: Your device & service plan by 4/14/2020.
REDEEM: Your eMastercard by following the instructions you'll receive via text.
*New customer activation only. Service plan purchase required.
In the next step, you will have the option to bundle your Phone with one of our no-contract plans.
A Service Plan is Required for Activation. Plans are not returnable or refundable. Transfer Wizard app available to move stuff from your old phone to your new phone. Text SAG960U1C to 611611 for mobile tutorials.
---
Rated

5

out of

5
by
Anonymous
from
Amazing phone!
This phone is excellent, Its fast, it's thin, it's practical, and the camera and gaming performance is great. I came from an iPhone 6S, and this phone blew me away. The camera quality, how loud the speakers are. I only have a couple of complaints about this phone is the Bixby button, there are 3ed party apps that will alow you to reprogram it, but they are slow and sluggish. There are also phones out there witch better battery life. The S9 doesn't have bad battery life, but it doesn't have good battery life either, but it's ok, and it charges fast, so that's ok. Also, this phone is really sexy, and the vertral reality is great. I just wish Samsung and Google played well with each other.
Date published: 2018-09-04
Rated

5

out of

5
by
Paraxio
from
Wonderful Return To Android
After having my first child, I wanted a phone that was going to deliver quality photos at the drop of a hat. You never know when a moment you want to capture will come up. I was on an iPhone at the time and saw advertisements for the Galaxy S9. I pre-ordered and had the phone shortly after release date. It has been my daily driver ever since. The phone does everything I need it to and more. It's fast, fluid, and the screen is unbeatable. Expandable storage makes sure I never run out of room and being able to charge my battery to almost full in a short amount of time is a killer feature. I can safely say I won't be returning to iOS after having seen what a smartphone should do.
Date published: 2019-01-21
Rated

5

out of

5
by
Rocketman1
from
Great Phone!!
I know a lot of people will talk about decreased sales numbers due to the minimal upgrades over the Galaxy S8. If you're asking yourself if it's worth upgrading from an S8 to an S9.... the answer is yes!! The physical features may have been minimal compared to the S8, but almost everything else internally is so much better. Apps open faster, the camera takes infinitely better pictures, and the multitasking is so much easier than before. One of the few physical features they did update was the fingerprint scanner, and it is in a much better place. You're much less likely to keep touching your camera lens searching for the scanner. This phone is definitely worth a look.
Date published: 2019-03-08
Rated

5

out of

5
by
Kingtiger007
from
S9 is a solid leap up from Galaxy S8
The audio performance is a such a huge improvement over a single speaker phone, specifically my S8, the new S9 sounds like a boombox. Great stereo. and surround sound. The overall performance is a pretty big step up, mostly due to the 845 Qualcomm, some due to the Oreo 8. Apps load quicker, and simultaneous running apps do not slow other apps in use. In the short time that I have used the camera, indoor photos are significantly better than the S8, with much better color and detail. My AR Emoji makes me look a lot more handsome than I actually am. Nice touch. Thanks Samsung. The S8 Galaxy theme is better than the new S9 theme.
Date published: 2018-03-15
Rated

5

out of

5
by
BloodyJuiceBox
from
Best Galaxy To Date
I absolutely love my new Samsung Galaxy S9 in replacement of my S7. So far, I have not experienced any issues in relation to the device. Everything has just been a breeze with the hardware down to operating Android 8.0. At first I was a little confused about the device being more tall compared to previous models but it works out perfect for holding it with one hand. I get roughly about 2 days on a single charge which is not bad figuring I'm on the road all the time traveling an average of 250 Miles using GPS, streaming music, and constantly emailing my Clients.
Date published: 2018-06-29
Rated

2

out of

5
by
Hkharp
from
Not so great purchase. Keep looking
I brought this phone and I had to reset back to factory settings. You have to use your data to speak to texts. WHat the heck well I downloaded goggle keyboard. Then it's hard to close your apps there not enough room or space since they did away with the keys. It like having an iPhone. If I wanted an iPhone I would have brought one. Here a good one for those whom have limited data you been had because now you have to keep going into settings to turn on and off your data there is NO SHORT CUT but everything else does. The battery life is not long. I literally despise this phone. There are more problems just make me mad Not Cool
Date published: 2018-12-18
Rated

1

out of

5
by
upsetgrandma
from
I hate my phone
I have had a lot of problems with this phone. I took it back to Verizon before my 14 days were up and told them I hated it. All was done is they called customer service and they were supposed to have fixed the issues. I continue to have dropped calls, people not being able to hear me and poor service at home and many places that I had no problem with my old phone. As soon as I am able I can I plan to get another phone but I am stuck with this one for 2 years! I have told many of my friends NOT to purchase this phone. I would not recommend it to anyone. Going to Verizon doesn't do any good. It is Not worth the money! My husband has the S8 and has no problem with it.
Date published: 2018-05-29
Rated

5

out of

5
by
Buck3568
from
No phone is 100% perfect
I've heard of many suggestions, some make sense, some don't. I will type this with a real review. I've owed many phones. This s9, not even the plus, is the BEST phone I've ever used. The screen is a vision of beauty. The sound is crisp, clear and the best sounding Galaxy ever. I had my doubts after hearing some people complain. The majority report moved me to try this device. The abundance of features offered by Samsung is truly amazing. They have listened to their customers, and delivered. Battery life....very fast charging. Phone call quality is way better than any phone I've used. Everyone I speak to can hear me perfectly clear. Quality is the final point. This phone is built to last, a beautiful and performing device.
Date published: 2018-06-08
Specifications
SIZE 147.7mm x 68.7mm x 8.5mm
STANDBY TIME up to 3.5 days
WEIGHT 163g
BAND (FREQUENCY) Technology: GSM / LTE - Wi-Fi 802.11a/b/g/n/ac
INCLUDED BATTERY 3,000mAh
HEARING AID M4/T3
TALK TIME up to 31 hrs
What's in the Box?
Includes Charger
Battery
AKG Headset
Activation Card
Micro USB OTG Adapter
Activation Card
Service Guide and Quick Start Guide.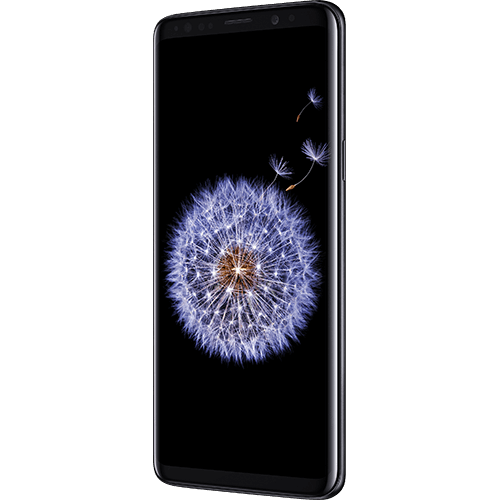 A Service Plan is Required for Activation. Plans are not returnable or refundable. Transfer Wizard app available to move stuff from your old phone to your new phone. Text SAG960U1C to 611611 for mobile tutorials.
WARNING: Reproductive Harm - www.P65Warnings.ca.gov
We are sorry but this device is not available currently!
Please add your email and we will notify you when this device can be purchased: SUBMIT
*TETHERING TO ANOTHER DEVICE IS PROHIBITED. OTHER LIMITATIONS APPLY. Please refer to your terms and conditions.