iPhone SE 32GB
is rated out of
5
by
97
.
SPEED 4G LTE/Wi-Fi®
USAGE TIME Talk time up to 14 Hrs
DISPLAY 4'' Retina HD display
STORAGE Internal Memory: 32 GB
CAMERA 12 MP iSight Camera
DIMENSIONS 4.87''(123.8 mm) x 2.31''(58.6 mm) x 0.30''(7.6 mm)
iPhone SE - A big step for small.
iPhone SE features a 4-inch Retina display, an A9 chip with 64-bit desktop-class architecture, the Touch ID fingerprint sensor, a 12MP iSight camera, a FaceTime HD camera with Retina Flash, Live Photos, LTE¹ and fast Wi-Fi, iOS 9, and iCloud.

In the next step, you will have the option to bundle your Phone with one of our no-contract plans.
This Phone works with all SIMPLE Mobile 30-Day Service Plans. No Contract, No Credit Checks.
See more
See less
Legal:
¹Data plan required. LTE Advanced and LTE are available in select markets and through select carriers. Speeds are based on theoretical through-put and vary based on site conditions and carrier. For details on LTE support, contact your carrier and see www.apple.com/iphone/LTE.
This Phone works with all SIMPLE Mobile 30-Day Service Plans. No Contract, No Credit Checks. Plans are not returnable or refundable. Service Plan card is required for activation.
iPhone purchases are limited to a maximum of 2 per order.
Technical Specifications:
Go to www.apple.com/iphone-se/specs/ for a complete set.
Choose from below
---
Rated

5

out of

5
by
Sam I Am
from
Works Great!
I've had it about a week, and LOVE it. I upgraded from an admittedly old & outdated Android phone, but it's so nice to have apps such as my Fitbit which work on my phone now, instead of freezing or taking forever to launch. The screen IS small compared to some phones, but I knew this before I purchased. The trade off in overall size is worth it to me. Apps and overall usability are awesome, voice and data are great, and activation was a snap using the web site. My number transferred and activated within minutes. The currently included minutes, text and data added to my account total when activation was complete.
Date published: 2018-05-21
Rated

5

out of

5
by
yelper
from
Great iphone!
This iphone arrives with IOS9 but you should update software to install the most current operating system (iOS 11.4.1 as of 8/29/18). This phone has a SIM card and you have to press hard on the pin hole to get the SIM slot to open. This phone does not allow for wifi calling (even when you turn cellular data off and LTE/roaming off) to other non-phone users but on wifi you can make calls for free via FaceTime. iMessaging is free on wifi but uses up data when not on wifi. The picture quality on this phone is great and the airdrop option is available so you can easily exchange photos with other iPhone users. Downloading apps is easy on the App store. The SE is a great size for me.
Date published: 2018-09-08
Rated

5

out of

5
by
joeg63830
from
APPLE - Reconditioned iPhone SE 32GB Rose Gold
I purchased this reconditioned iPhone from Total Wireless and I cannot believe that it came in a brand-new-like state. I inspected it very closely and theres's not a scratch, nick, or anything, and it even came with a brand new 100% healthy battery with zero charge cycles, and authentic OEM USB data sync cable and wall cube. I'm so glad I went with the reconditioned as I saved a lot of money. Mine did not come with the original box or earbuds, but the box is not important and you can buy your own earbuds and still come out ahead financially. I've owned iPhones for years and have several right now, and I guarantee you cannot go wrong with purchasing this phone.
Date published: 2018-08-17
Rated

5

out of

5
by
easeltine
from
Phone works fine, and Battery life is amazing.
I bought this phone at Christmas to replace my iPhone 5S. I had bought my iPhone 5S only a year previously, however, had made a mistake in updating it to the newer iOS. A path that makes the iPhone 5S unusable, slower, battery life only 5 1/2 hours when actually using the phone. The older phones problem has NOTHING, NOTHING to do with Apple, "Throttling the phone," it all has to do with the A7 processor of the i5S and the A9 processor of the SE. The i5S received a new battery. I am going to use it as a iPod, and that did not increase performance! Benchmark is as the i5S should be, less than 1/2 the SE, A7 vs A9. The SE is actually able to handle the advanced 11.2.5 iOS, and maintain battery life.
Date published: 2018-02-02
Rated

5

out of

5
by
dgaus
from
Great little iPhone
After having my personal iPhone5s ported over to tracfone a few months ago I picked up 2 iPhone SE's to add for the family; although I may keep one for myself. They are better than my 5s in terms of speed and battery life that's for sure and exactly the same size but with the chipset of an iPhone6. My 5s lasts about a day while these with kids who are frequently online using an SE last about 2 days. I should also note that the only difference in going to tracfone from the carrier I was with is about $75 extra a month in my pocket.
Date published: 2017-12-18
Rated

5

out of

5
by
Jerome
from
This is an incredibly good deal!
I purchased one of the iPhone SE's in October after considerable study as to which phone would best suit my needs. I'm hearing impaired and wear hearing aids in both ears so I needed a "loud" phone. This phone can be set to a level of loudness that you could set it on a table and have several people listen to it! The speaker is in the bottom of the phone when laid flat and comes out of the earpiece when held up right. You have to go through the settings to set up everything, but Apple does a good job of making this easy to do. The camera is excellent 12 megapixel) and also will take great videos at resolutions up to 4k. There is a digital zoom that goes up to 5x, but you lose a lot of sharpness, so zooming should be limited to 2x to 3x. 2x is pretty good and good for portraits. Apple gives you a lot of apps already installed so you have a lot of choices.
Date published: 2017-12-09
Rated

5

out of

5
by
Bri28
from
Iphone se
Purchased two reconditioned se phones for my two children 9 and 6. They arrived on time in excellent condition not one scratch or crack. Iphone Set up was easy and I used wifi to set them up since there were reviews about wifi not working. The battery was fine packaging wasn't original but did include charger and wall port no ear buds but who cares. The update was quick and didn't cause any issue moved fast.The bttons worked great sound is loud. It's a small phone compared to the 8 plus My husband and I own but perfect for my kids. I'm excited for them to see their number one Christmas Gift at $69 a piece couldn't beat it.
Date published: 2018-11-17
Rated

5

out of

5
by
Little Hand
from
Perfect size
I purchased this phone two weeks ago. It is the perfect size for a man's pocket. It has quick searches and I don't have to power down then power back up to reset it like I did with my previous phone. At $129 plus tax it is a steal.
Date published: 2017-11-27
Specifications
SIZE 4.87''(123.8 mm) x 2.31''(58.6 mm) x 0.30''(7.6 mm)
STANDBY TIME Up to 10 days
WEIGHT 3.99 ounces (113 grams)
BAND (FREQUENCY) GSM/EDGE (850, 900, 1800, 1900 MHz)
INCLUDED BATTERY Built-in rechargeable lithium-ion battery
HEARING AID M3/T4
TALK TIME Talk time up to 14 Hrs
What's in the Box?
iPhone SE with iOS 9
Apple EarPods with Remote and Mic
Lightning to USB Cable
USB Power Adapter and Documentation.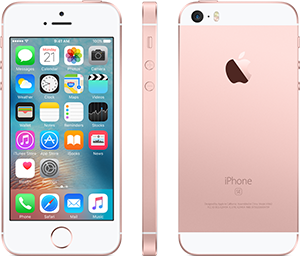 This Phone works with all SIMPLE Mobile 30-Day Service Plans. No Contract, No Credit Checks.
More features
A9 chip:
A9 chip with 64-bit architecture. Embedded M9 motion coprocessor.
Camera:
12-megapixel iSight camera with 1.22µm pixel size.
Faster LTE and Wi-Fi:
Browse the web, download apps and games, and stream video over 802.11ac Wi-Fi and LTE - with speeds even faster than on iPhone 5s.
Built-in Apps:
Built-in apps are an essential part of your iPhone experience and are efficiently designed to use less than 150MB of storage.
iOS 9:
The world's most advanced mobile operating system gets major enhancements to built-in apps, a smarter Siri and search, and much more.
We are sorry but this device is not available currently!
Please add your email and we will notify you when this device can be purchased: SUBMIT
*TETHERING TO ANOTHER DEVICE IS PROHIBITED. OTHER LIMITATIONS APPLY. Please refer to your terms and conditions.